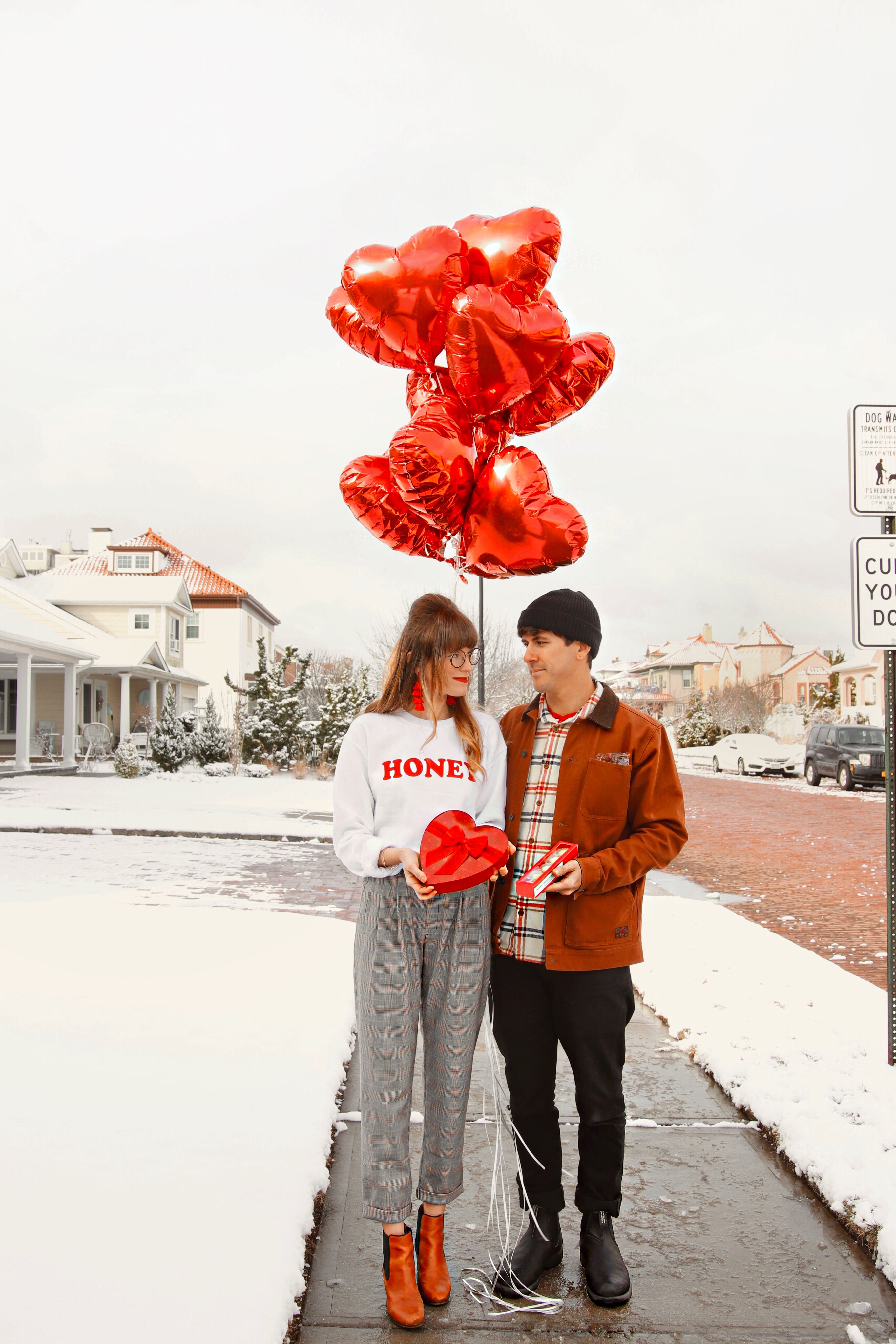 I love posting one of these per month, and I thought Valentines day is a great day to get real with ya'll! Here's 5 things behind the images!
1 – I met Noelle for brunch on this day, and I was a bit early (i'm always early) and I overheard someone ordering a latte in a cone! I had to try it. I gobbled one up, so when Noelle came we ordered more to snag a photo with one. The restaurant was pretty dark inside so we hopped out front to grab this photo. It was FREEZING and you can sort of tell how red my nose was!! Totally worth it for the photo though!
2 – Noelle, Rachel and I have a running group chat, in which we bounce ideas off each other, help each other with photos to pick, etc. We decided the night before an event we were all attending to shoot something afterwards, the three of us. It's always SO fun shooting with these two, and it makes me feel a bit less alone in this weird blogger world. We love coordinating looks, and decided on wearing red and grey. It was fun seeing all of our interpretations of the color scheme! We found this adorable pizza joint, grabbed some slices for lunch, and then shot some photos out front!
3 – My favorite part of shooting campaigns with brands is finding a way to be super creative, and think outside of the box. I've been LOVING 310 protein shakes, but I knew I didn't just want to shoot a picture of the shake inside my kitchen. I decided to take Matt on an ice skating adventure, in which I attempted not to fall the entire time! I have this amazing retro rink near my home, which is where I ice skated as a kid with my mom and brothers. It was so cool to go back and rent skates for the morning and shoot some photos. P.S. people definitely thought we were crazy haha!
4 – I love sharing in-the-moment photos from my phone sometimes. On this morning we were looking to shoot the look I had on, and I had picked out an adorable brunch spot to go to, but we could not find a parking spot near it. We ended up at this sort of dive diner near the BQE highway in Brooklyn, and Hudson was being so cute in the moment that Matt took this picture. I ended up sharing it because I loved it so much!
5 – I took room reveal photos of our new office, only to submit them to West Elm and realize I had the lamp shade upside down in all of them. OOPS. I reshot them all, but had the fly during, and am surprised how well the photos turned out considering I had around a 102 fever while I was snapping away. It can be tricky taking a day off when you work for yourself sometimes! haha!
Hope you enjoyed these, and I'll be back with more soon!
---