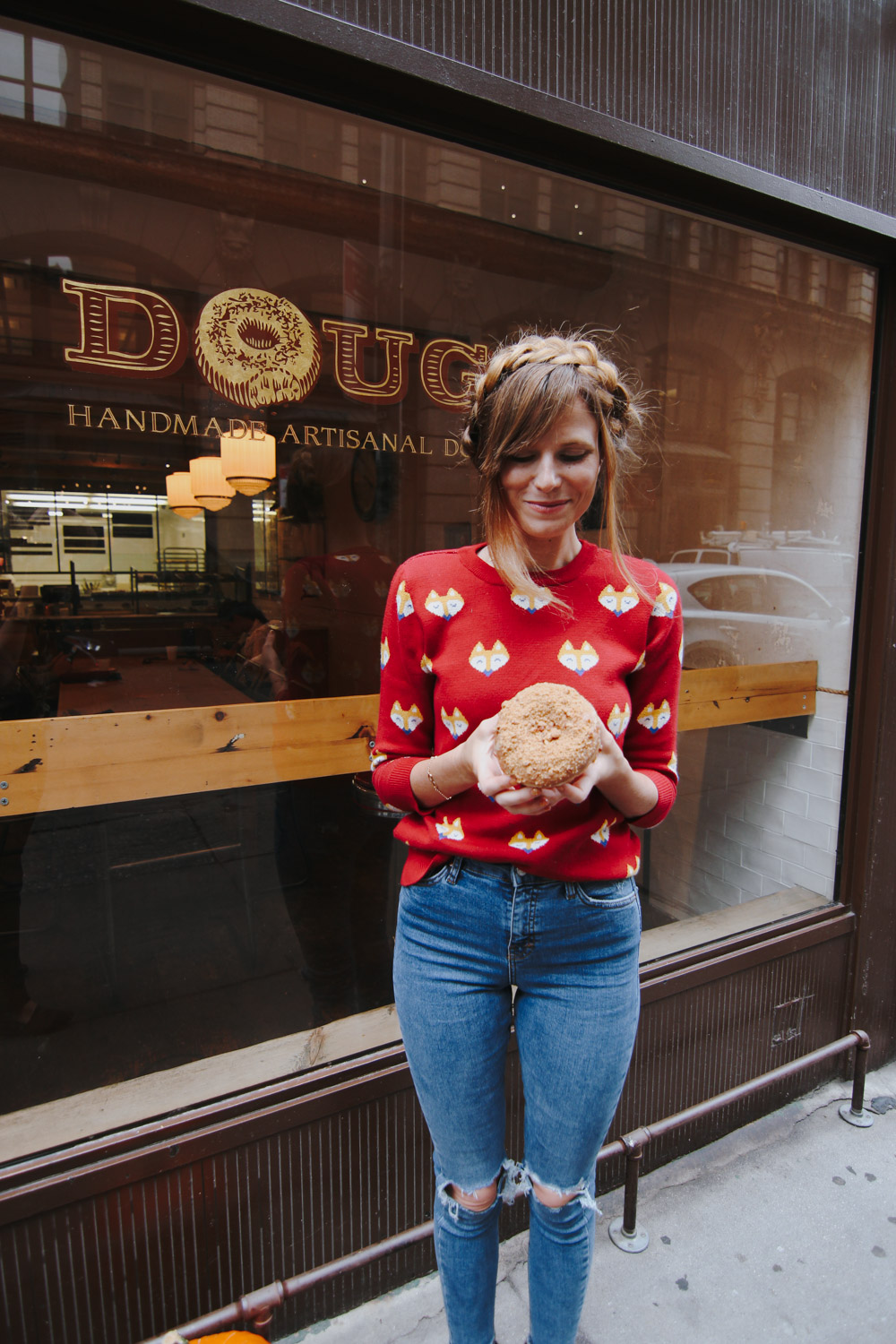 You guys seemed to love this insight into how being a blogger works, and getting a glimpse into the reality behind the squares, so I am excited that this little series will be sticking around! I will definitely try to post 1 of these a month (probably on the week that I don't have any groundbreaking personal thoughts haha). It's been a really really busy week including closing on our new home (!!!!) and tons of events and travel, so I haven't had too much thinking time. But, here's a little dose of reality for you:
1 – This day was CRAZY. I had a meeting at 11AM in the city with Hudson, but the traffic was horrible, and in a rush I ended up side swiping a cop car. Yes, the cop was in the car. It was not my proudest moment, and there were tons of tears shed. Luckily my amazing assistant Perrin came to my rescue, my car had very minimal damage, and the show went on. We had to shoot for an upcoming campaign, and shoot we did! We ended up stopping at Dough because this girl needed a donut after the morning of insanity. It's funny how peaceful this picture is, because the day was anything but!
2 – Matt snapped this in a little corner of our local coffee shop Gentle Brew, and our good friend Kyle sat nearby working! It's always so funny & sort of weird when your friends get a peek into what shooting a blog campaign looks like. I was like "ok, now Kyle is on a new level of friendship with us" because I actually felt comfortable taking pictures in front of him. It's a weird thing, having your picture taken in public.
3 – Two seconds after we shot this, Hudson had a meltdown because he wanted to eat the ice cream so bad! HAHA. I shared it on Stories, so some of you probably saw it. I had to throw the cone out because he was so upset!!
4 – When we shot all of these photos in partnership with KLM, we boarded the plane at the same time as everyone else (or I guess about 3 seconds ahead because of traveling with a baby). It was really stressful, because we had about 4 seconds to snap a photo for such an incredible company, and we didn't want to let them down! We of course snapped some pictures throughout our flight, but in order to get the shot we had envisioned for this campaign, we had about 2 seconds. You guys probably never thought about the logistics behind these things, and I know I never ever did until I worked in this industry.
5 – We had an argument about something baby related this day, I think because it was SO hot and we were just grumpy, but we saw the stars out and it all kind of faded away, and then we snapped this picture. It looks so calm, but I think an hour or so before we were bickering, like married couples sometimes do. haha!
Are you guys still enjoying this series? Let me know in the comments!
---