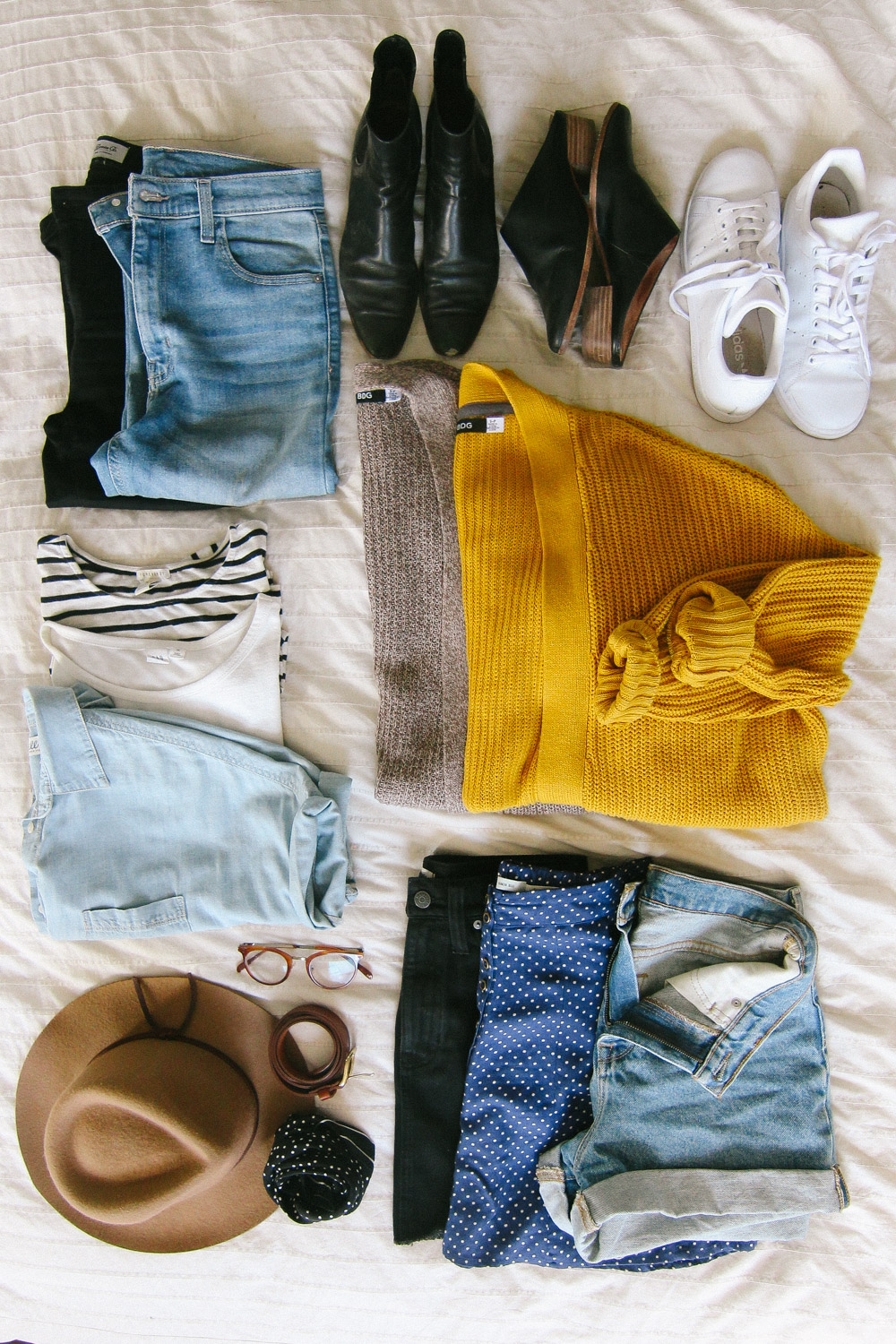 Let me pose a challenge to you: On your next trip, pack only 12 pieces of clothing (or one piece for each day of your trip). On this trip to Denmark, I challenged myself to become a minimalist packing pro, and I snapped some pics along my journey.
Here's what I am choosing to pack on my 12 day Euro trip (Hint: They are all items you will have in your own closet!)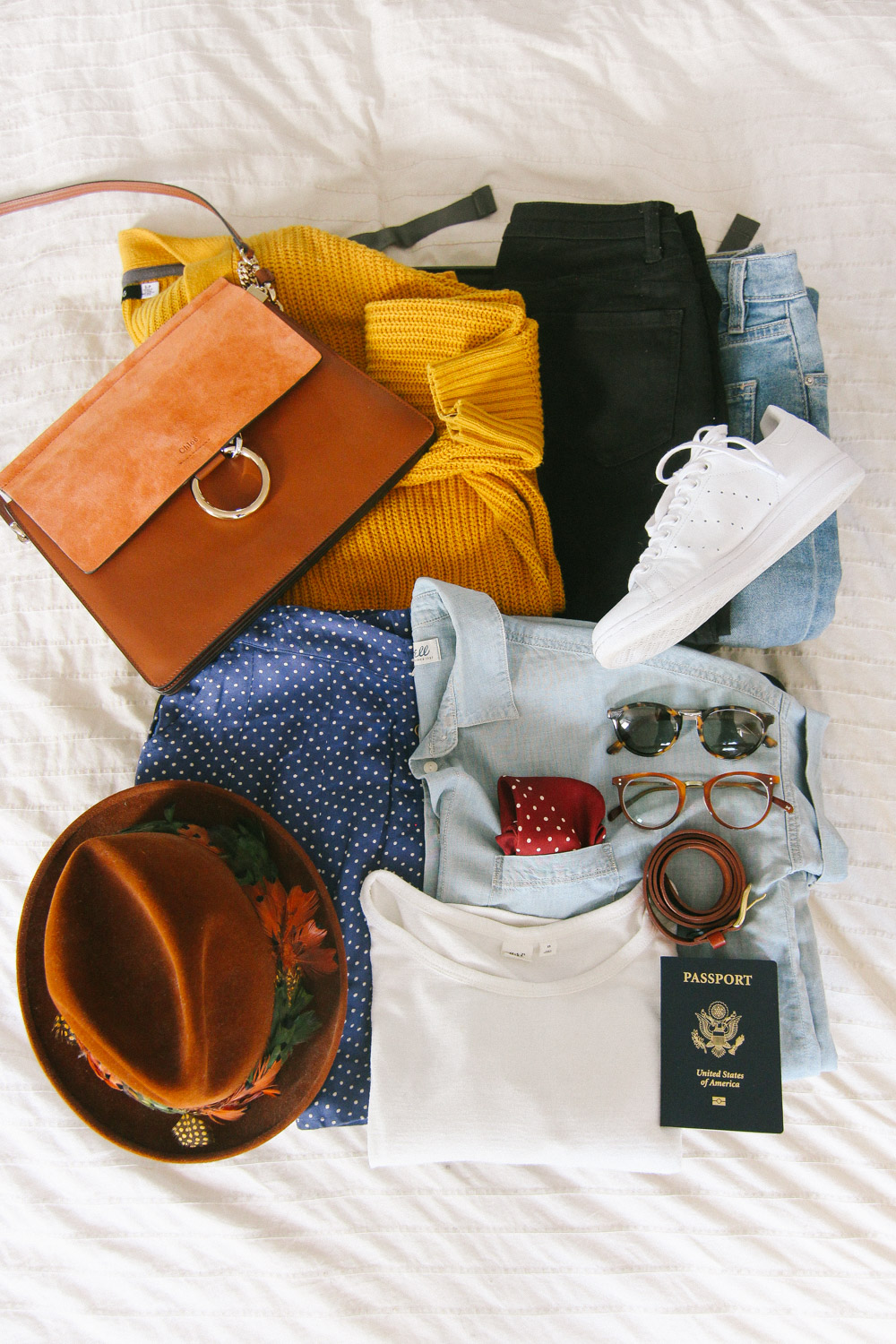 Tops: 
1- white tee
2- striped tee
4- mustard-yellow long cardigan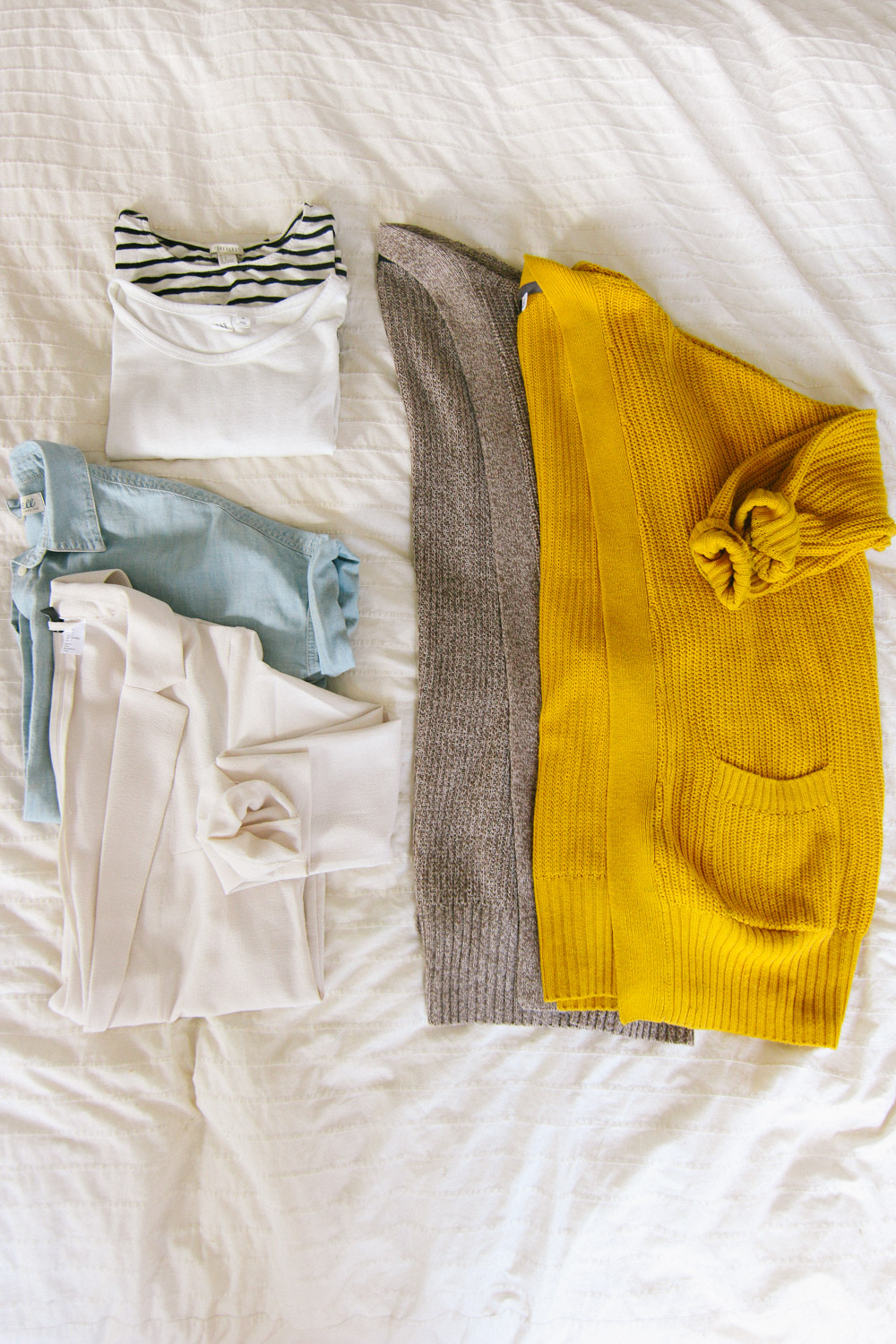 Bottoms:
6- High-waisted light wash denim
10- Polka dotted skirt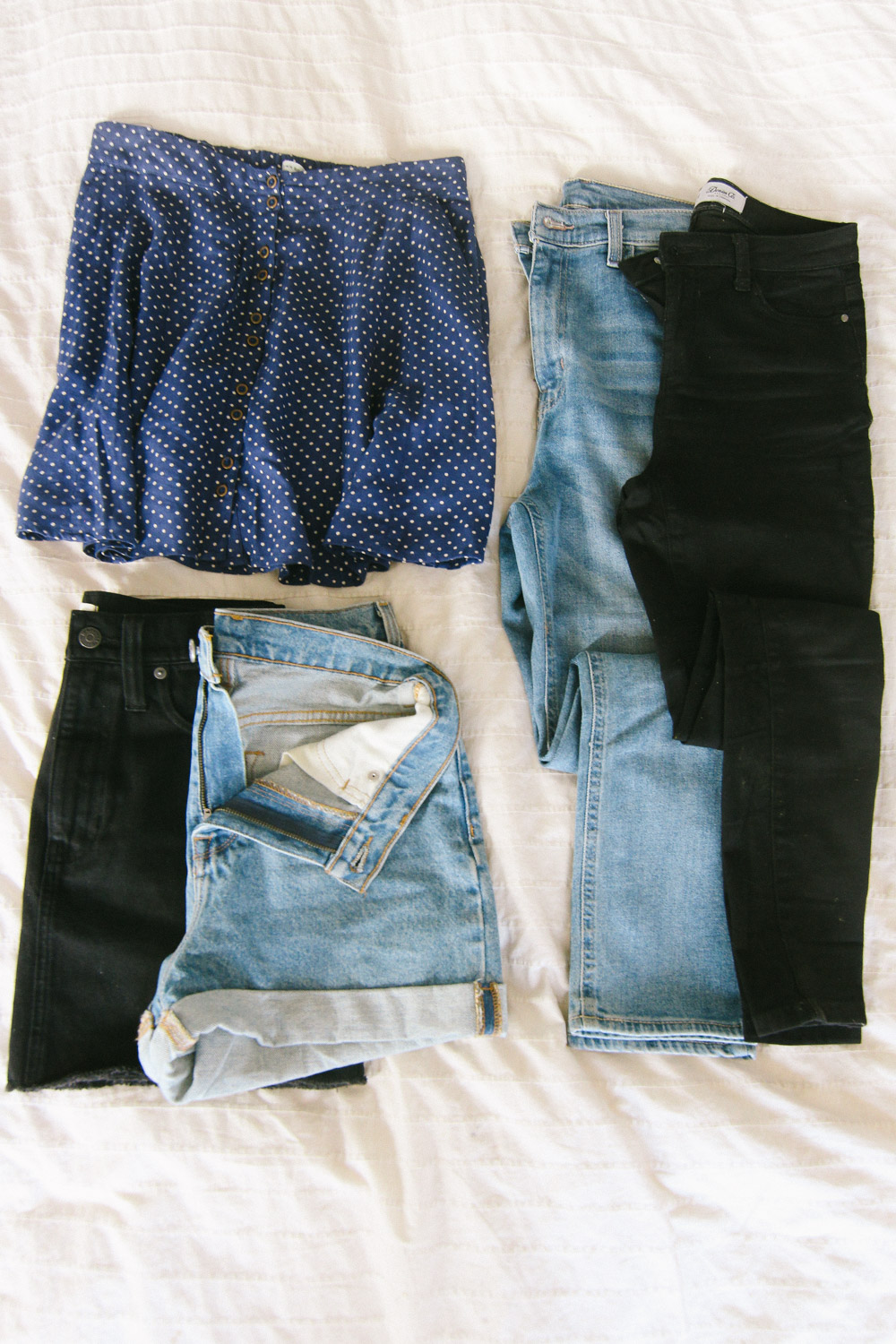 Special pieces: 
11- Cream blazer
12- Denim overalls
A long time ago, I was the kind of traveler who would stuff as many shoes, bags and dresses into a suitcase as it would allow, and I would barely get around to wearing half of what I brought. The entire trip, especially if we were staying in multiple places, I would be caught up in the annoyance of re-packing my suitcase and shoving everything in. It really took away from the ease of being on the road, and I got tired of having to constantly be lugging around things just because I wanted to be *cute.* I realized that I could be just as "blog-worthy" in jeans and sneaks! Here's some of my biggest tips / realizations:
Buy everything you use on your hair in a travel size. I love this travel straightener and this travel curling iron.
Separate "wants" from "needs." Sure, I'd like to bring my whole closet along, but what do I really NEED this trip?
Accessorize! An outfit can look totally different with a different necklace or a hat.
If you can't re-wear it two ways, don't bring it. Every item has to be re-wearable.
Choose your shoes wisely. I brought 1 comfortable pair, 1 warmer weather pair, and 1 pair of boots for chilly nights.
Get a smaller suitcase. I love this one from Away.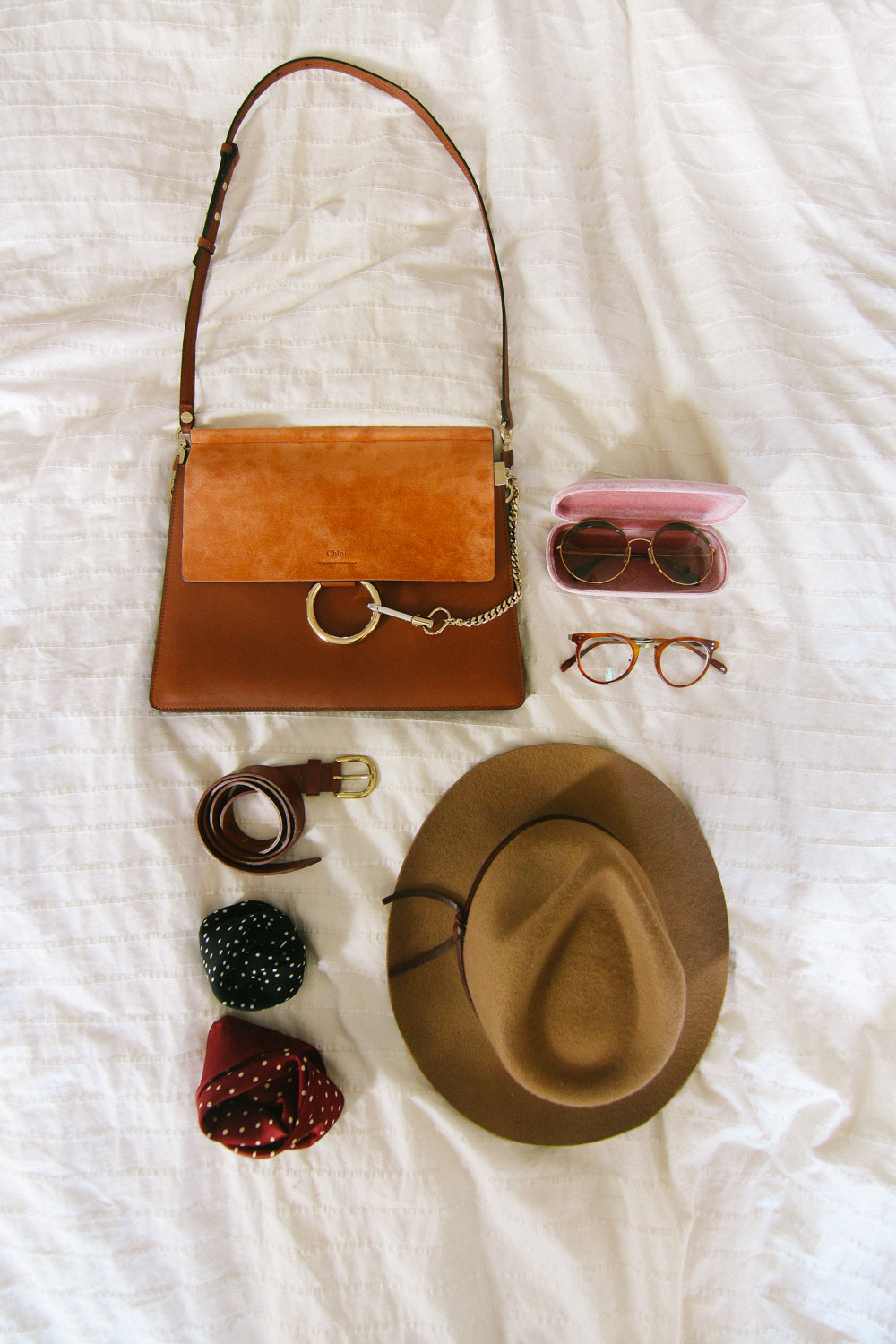 I'll be sharing all of the many combinations of outfits from these key pieces throughout my trip, and I'll be recapping them at the end of the trip! I hope these tips helped, and if you have any to add, make sure to comment them below!
SHOP THE POST:

---